Почта | Главное | Бизнес | Технологии | Медиа | Человек | Отдых и увлечения | Быт | Архив |

RSS
FIRST SUBMARINES ON THE PACIFIC OCEAN
Signalers of two Japanese destroyers that were on a mission near Vladivostok on April 29, 1905 simultaneously saw a weird object at a spot that used to be empty a few minutes before. Suddenly it went down having left a vertical stick above the surface. That stick was moving! The destroyers' masters understood that the weird thing was a underwater destroyer of Russian fleet. According to Japan intelligence data those submarines recently appeared in Vladivostok. Rapid turn back, max. velocity - the ships went eastwards, postponing their mission.
Soon after the ships disappeared, water began to go in bubbles and a submarine appeared above the water. The flag was a white-blue St. Andrew's cross. Engine roared, and the submarine moved forward in clouds of gas smoke.
This event that occurred near Russky island deserves special attention. This was the first contact of a Russian submarine with a real war ship. The first time when the captain of Som (Russian word for sheat-fish) Lieutenant Prince Trubetskoy saw not a sample piece of wood, but enemy's ship. The first time in world history when two opponents met and began their competition which is not over yet.
The direct cause of submarines appearance in the Far East was a great number of casualties in the first days of war. Admirals had to look for something new; and this new thing happened to be submarine which just started to enter fleets of the leading marine countries.
The first Russian submarine Delfin (dolphin) was being tested by the beginning of the war. It showed good results for that time. Baltic plant got charged to construct one more submarine of 140 tons displacement (named Kasatka later on - small kind of predator whale). One more submarine was built at Nevsky ship-building and mechanical plant by a project of American constructor D.F.Holland. The war changed plans of Sea Ministry, and gave a powerful incentive to development of Russian submarine fleet.
Baltic plant was ordered to build four more Kasatka submarines on February 11, 1904. One more submarine got built using the funds of citizens' donations on April 23. The construction of 5 Holland 7P submarines began at Nevsky plant on February 26. So, as you may see that business was growing pretty fast for Russia.
We were also buying submarines Fulton and Protector submarines from the USA; dockyards of F.Krupp (Germany) were building 3 submarines for Russian fleet. F.Krupp presented us (Russia) with a small 17 tons submarine Forel (trout). Placing orders was a relatively easy question, but transportation was a quite difficult one. Submarines of that time would not stood such a long way by sea. Sending them on the docks of merchant vessels was a risky thing because of a danger of Japanese attack. So, the only way was using - Trans-Siberian railroad. However, Ministry of Communications had their own tough standards of safety. The load should have been such that the safety of it, railway itself, and all constructions could have been guaranteed. The officers of both Ministries had done a fine job of engineering. They came to conclusion that transportation of submarines was possible if their weight was reduced to 100 tons.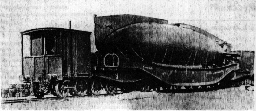 On the Way to Far East
A sea-engineer Bubnov managed to work out a great carrier unit for various types of submarines. It was built at Putilov plant which had some experience of working with large mobile units.
Those carriers got ready by October 1904. The submarines Forel, Delfin, Som, and Osetr (the last two- former American Fulton and Protector), and Scat, Kasatka, Nalim, and Marshal Count Sheremetiev built at Baltic plant were ready for action by that time, too. Companies of Lake and Krupp were unable to fulfill their obligations. Two submarines were stayed at Baltic Sea. That is it. The 8 submarines were getting ready to travel eastwards on October 21.
Every train consisted of two carriers with submarines, staff carriage, two or three goods vans for sailors. The most heavy details, like engines, batteries and others were sent separately as usual railroad goods. Carriers started their preparatory trips in the end of October. Sea Ministry had to hurry up because it was impossible to deliver the submarines in the winter time. Besides that, Japanese troops could come up to the part of the railroad that led through Manchuria.
First train left St. Petersburg foggy morning of November 2, 1904. This was train # 633 with submarines Scat and Nalim under the command of Scat's master Lieutenant Tieder. # 634 with Kasatka, and Marshal Count Sheremetiev left two days later.
Actually, the most difficult part of the entire venture was to keep moving as it was planned. Trans-Siberian railroad was a great mess that time. (Well, all Russian railroads are always messy, but that was too much ever for us - Max.) Troops, ammo, and everything else for the army was moving eastwards. Wounded and civilians were moving back to Russia from Manchuria. Locomotives worth their weight in gold. The trains' masters had to do a bunch of smart and tricky things to get moving because the carriers did not have any special advantages over other loads.
In spite of all hardships, the first trains # 633 and # 634 arrived to Vladivostok on December 12. A Forel submarine came to a destination place a little bit earlier--on September 29. Carriers turned back right upon arrival and unload. Thus, Som, Delfin, Schuka, Osetr, and Kefal (all fish names) got delivered to Vladivostok by the end of summer 1905. Those submarines were basically used for intelligence missions in small bays and guarding of Russky island.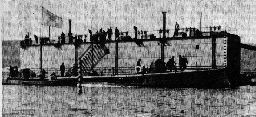 Kasatka is ready for mission. 1905.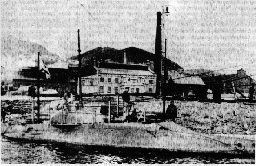 Som in Vladivostok.
All submarines that arrived to Vladivostok were organized into special destroyer detachment in January 1905. A commander of Vladivostok cruiser detachment Admiral Iessen was a head of all special forces in the Far East. The authority over all submarines was delegated to Kasatka's master Lieutenant A.V. Plotto.
Admiral Iessen held a meeting concerning usage of the submarines if the Far East on January 29 1905. The first proposal was to tow the submarines to Khakodate and Aomori ports and let them assault Japanese ships. Second way was to locate submarines base on the eastern shore of Korean peninsula and sent them into raids in search of enemy ships to Korean Strait.
Those offensive dreams did not become true because of worsening of situation at the theater of war operations. The submarines stayed at Golden Horn bay to protect the city of Vladivostok from possible Japanese raids. Since that the Harbor Master of Vladivostok military port became a commander of submarine squad. According to Scat master Tieder, the very first order of an Admiral was a strange one: "Do not dive!"
Well, this strange for submarine officers order was kind of logical. Submarines like Kasatka were full of construction defects. Sailors did not learn to manage them properly, too. Admiral wisely decided that the fact of submarines presence in Vladivostok harbor was a good argument.
However, the order was broken. Submarines masters Lieutenants Plotto, Tigershtadt, Tieder, Prince Trubetskoy and other kept learning their ships, learned themselves, and their sailors. Submarines went out at sea any weather, made drills, worked out methods of cooperation and communication to the shore. Officers tried to increase capability of their submarines; they secretly organized depots of fuel and supplies, that consequently increased the duration of their missions.
The experience they gained during that independent training was like a base of further Russian submarine fleet. Many officers became real enthusiasts of submarine sailing. They believed their submarines were capable to compete with war ships. The construction got improved, too.
In spite of all technical handicaps of the first submarines, organizational mess (nobody knew for sure how to use them), and other problems, the submarines played a major role in Vladivostok defense. Japanese were afraid of "hell machines", that is why they decided to limit themselves with a few destroyers' raids and intelligence in the area of Vladivostok. Apparently, the fear of submarines which could easily sink a iron clad, was stronger than fear of fortress cannons. That is why Vladivostok remained safe throughout the war.
Submarines became a reliable and extremely effective mean of defense. Unfortunately they were not used at Port Arthur (a battle where Russians got smashed. That's why we lost that war.-Max.) as it was planned earlier. Submarines could have changed the whole campaign...
E.P.IGNATIEV